Passage #10: 26 August 2009
A Capitol Ride! Capital!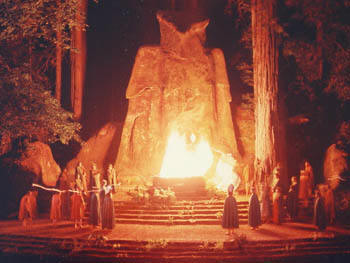 Hail Bohemians! With the ripple of waters, the song of birds, such music as inspires the sinking soul do we invite you into mid-summer's joy. The sky above is blue and sown with stars. The forest floor is heaped with fragrant grit. The evenings cool kiss is yours. The campfires slow. The birth of rosy fingered dawn. Shake off your sorrows with the city's dust and cast to the winds the cares of life.
Follow the memories of yesterday and seal the gates of sorrow. It is a dream, and, yet, not all a dream. Dull care and all of his works harbored it. As vanished Babylon and goodly Tyre, so shall they also vanish. But the wilding rose blows in the broken battlement of Tyre and moss rends the stones of Babylon, for beauty is eternal and we bow to beauty everlasting.
Bohemians and priests, the desperate call of heavy hearts is answered. By the power of your fellowship, dull care is slain. His body has been brought yonder to our funeral pyre to the joyous pipings of a funeral march. Our funeral pyre awaits the corpse of care. Bring fire!
---