Passage #111: 17 August 2011
Boulevard of Broken Eggs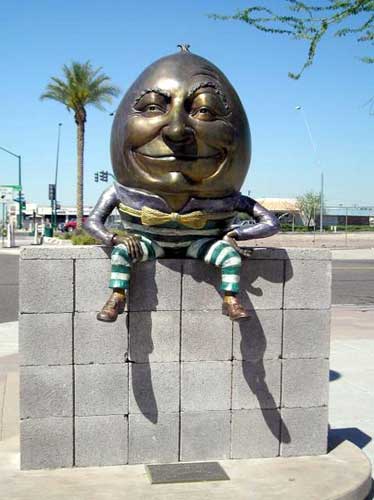 For those who've reached a certain level of power or fame, an ignominious end is, ironically, a pretty reliable ticket to immortality. Whether Notorious or simply notorious, the one sure way to lock down a place in the history books is to die under controversial circumstances. Think: John Lennon, Kurt Cobain, James A. Garfield.
All in all, surely, they would prefer to be famous for being alive rather than for being dead, yes? But the deed is done, and sometimes the deed is done by assassins, which makes the story that much more interesting. Because it's a rough-and-tumble, dog-eat-dog world out there in the halls of fame and power, full of cliches about bones being picked, axes being ground, eggs being broken.
And Los Angeles has seen its share of broken eggs, oh yes. It may not always be clear who broke the eggs and why (or, indeed, whether the eggs actually broke themselves), but we may fairly assume that the eggs were broken because they got too big, if you get our drift here.
This week, we explore the city-wide omelette (because yeah, now that we've settled on a metaphor, we're just gonna run this one into the ground if you don't mind), visiting sites of famous assassinations and suspicious circumstances.
We may not reach quite the level of intrigue of, say, polonium-210, but we've got the mob, the M.O.B., and the Hollywood Star Whackers.
---