Passage #54: 7 July 2010
Breaking Bread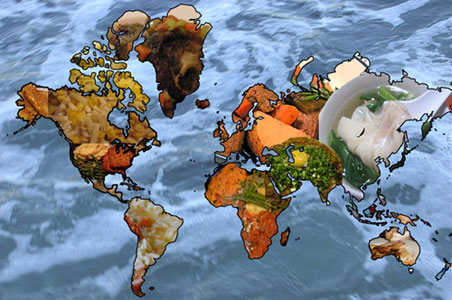 This week, we will visit the countries of the world and reach out to them - with food! And then we will put that food in our mouths.
You are surely aware that the sharing of food has a long and storied history in the cementing of international relations. Food carries great symbolic weight, an implicit trust that can, at least momentarily, dissolve cultural barriers during tense times. Thus, with so much conflict in the world, so much trouble and strife, we feel that it is our duty to ride bicycles and break bread in the spirit of international unity (the unity of international foods with our bellies, in particular).
Here's how it works:
Below is a list of countries whose diplomatic offices lie within easy reach of our starting location. Choose one of them, and bring a food or beverage (or both) from that country to the ride.
The route will be drawn up at the start of the ride based on the countries you choose. Our goal is to visit a consulate, embassy, or other point of diplomatic contact for each nation and then eat their representative food as close as we can get to their extraterritorial borders without causing an international incident. NO international incidents! This is a bike ride, not a flotilla.
Let us know which flag you'll be waving in the discussion thread, or feel free to just surprise us with your selection (because we're all about the surprises here, you know).
Get your passports ready, because we're going to:
Austria
Bangladesh
Barbados
Belgium
Belize
Brazil
Canada
Chile
China
Colombia
Costa Rica
El Salvador
Ecuador
Ethiopia
Germany
Guatemala
Honduras
Indonesia
Israel
Japan
Kenya
Korea
Kyrgyzstan
Lebanon
Mexico
Norway
Peru
Philippines
South Africa
Spain
Sri Lanka
Taiwan
Thailand
Turkey
and/or
United Kingdom
Note that while we may be circling the culinary globe, the actual distance that we will be riding is short: less than 20 miles, with frequent stops for serious diplomatic business.
Also, because some people have apparently been worrying about what kind of shoes they should wear on this ride, we encourage them to consult this helpful list.
---